Javascript must be enabled to continue!
"iSee: An interactive installation for performing psychoacoustic experiments"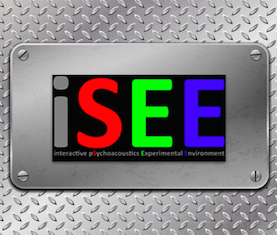 iSEE" is an interactive sound installation that aims to demonstrate common, well-known psychoacoustics phenomena in real-time. The interaction environment and rules are based on spatial information derived by the instantaneous user position relative to a virtual navigation grid pattern that covers the installation space. This allows easy navigation and experiment selection, as well as simplified experiments control parameters definition.

The installation is based on a real-time software application which employs advanced audio and video processing techniques for realizing the interactive experimental environment. The iSEE sound installation was demonstrated using three well-known psychoacoustics effects (precedence effect, tonal beat perception and the encoding error of the MPEG1 Layer III compression scheme, the well-known mp3) allowing the overall performance assessment of the proposed platform as an advanced tool for both experimental and educational purposes.

The interactive installation ?iSEE? was the result of the final year thesis (in greek only) of Mr. Christos Mousas. The installation was presented during the annual Festival organized by the Dept. of AudioVisual Department at Ionian University, on May 2009.
---
Gallery:
---
back
Address
Department of Audiovisual Arts
Ionian University
Plateia Eleftherias, Palaia Anaktora
49100 Corfu, Greece
| | |
| --- | --- |
| Telephone | +30 26610 87725 |
| Fax | +30 26610 87866 |
| Skype | audioguy_gr |
| Email | floros@ionio.gr |